So, I have been wanting to share this quilt forever!  I finished it in the summer and I had to wait to blog about the whole quilt.  This quilt is designed by
Kimberly Einmo
and quilted by me.  The name of the quilt is Fire and Ice and was recently showcased in
AQS Quilt Week
in Des Moines.  Good news, it received the viewer choice award.  I can hardly contain my excitement!  I have never been part of a viewer choice award and I really think that is the best award out there! You can read all about the award
here
. The pattern for Fire and Ice will also be featured
in the next edition of BEST MODERN QUILTS, due to be published in January, 2014 - So exciting!  Be sure to watch for that. 
It has been such a pleasure to get to know Kimberly Einmo, we have become fast friends and I am so excited that I have been able to collaborate on
several
of her quilts. I am still waiting to share one other quilt that I have finished for her.  I can't wait for that one. 
Kimberly let me do my thing on the quilt.  I had the best time coming up with the quilting design.  It came to me almost immediately.  It was funny because I convinced myself that it wasn't going to be so detailed that it would take a long time.  Boy, was I wrong ;-) It was a time crunch quilt, so it was a little stressful during the process. 
I couldn't be more happy with the results though.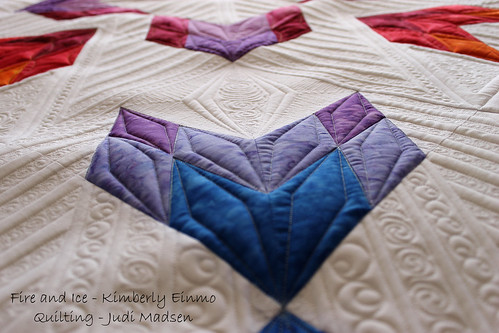 There is something about quilting texture that makes me so giddy.  Thanks for letting me share this with you! Have a fabulous week!